Welcome to Barcelona & Girona
Experience two amazing and historic Spanish cities by touring the region of Catalan and the cities of Barcelona and Girona!
Visiting Spain opens a window into a country of rich culture, character, and festivity. Undeniably unique in so many ways, Spain has been one of Europe's major cultural centers for thousands of years. Its extraordinary artistic heritage encompasses grand achievements in painting, architecture, and music. Renowned painters such as El Greco, Salvador Dalí, and Pablo Picasso transformed trends in art. It was in Andalusia that the first guitar was invented in the 1790s. Later, Andres Segovia of Spain took this invention to new heights by establishing the classical guitar as a genre. Paco de Lucia eventually became the best-known flamenco guitarist in the world.
Music is at the heart of Spanish culture. Best known for traditions like flamenco and the Spanish guitar, Spanish music varies greatly from region to region. When traveling to Barcelona and Girona, these distinctive sounds and characteristics can be heard on the streets as well as in concert halls. Reflected in the music of Spain is the culture of people who find this expression integral to their lives and well-being. Take a thrilling journey to Catalonia and experience wonders of Spain as you share your music with local audiences.
Additional concert tours in Spain: Madrid & Barcelona and Seville, Cordoba, & Granada
Itinerary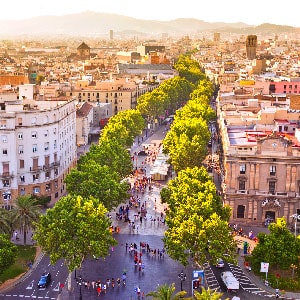 DAY 1
|
FLY TO SPAIN
Depart North America for Barcelona, Spain. Buen Viaje!
DAY 2
|
WELCOME TO SPAIN!
Arrive this morning in Barcelona, the vibrant capital of the region of Catalonia. Your Music Contact International tour manager will be waiting to greet you.
Take in highlights of exciting Barcelona on a panoramic sightseeing tour with a local guide. Get a flavor of Gaudi architecture, beautiful seascapes, palaces and parks.
This afternoon, settle into your conveniently located hotel. Rehearsal can be arranged.
A welcome dinner including tapas, a delicious assortment of Spanish tidbits, will be enjoyed this evening.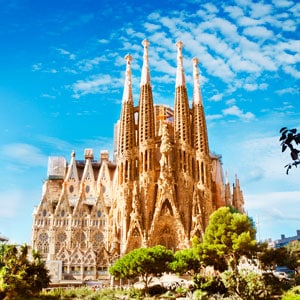 DAY 3
|
SIGHTSEEING IN BARCELONA
Your first full day in Spain begins with a guided tour of the incredible Sagrada Familia Cathedral. Gaudi's masterpiece, often referred to as the "Sandcastle Cathedral" is the most prominent symbol of the city and a fabulous creation of art, nature, architecture and light.
The afternoon is open for lunch and to explore Barcelona at your own pace. Perhaps visit the Picasso Museum, L'Aquarium Barcelona, the Palace of Fine Arts, or stroll the pedestrian Las Ramblas!
Evening activities will be suggested: A cultural happening, concert at the Palau de Musica, opera, flamenco show, or spectacle of lights viewing from Montjuic are possibilities in Barcelona!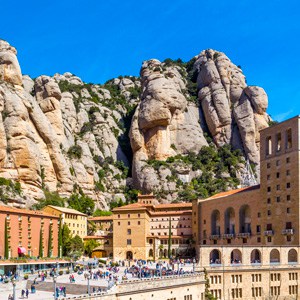 DAY 4
|
MONTSERRAT | CHORAL OFFERING*
Today, embark on an excursion to Montserrat, a monastery and shrine set in a glorious landscape of jagged peaks.
While in Montserrat, pay tribute to the Black Madonna, patroness of Catalunya, whose holy significance attracts pilgrims from all over the world.
In addition, the oldest Boychoir in Europe resides at Montserrat and sings daily for midday mass (when the boys are not on tour). If your visit coincides with the Boychoir's singing, their chants are very special to hear.
Over the course of the day, your ensemble will present a choral offering in the gorgeous Basilica at Montserrat. Your voices will heard and appreciated by visitors from many nations.
Return to Barcelona in time for dinner.
DAY 5
|
SIGHTING & SINGING IN BARCELONA | FRIENDSHIP CONCERT*
This morning, visit Parc Guell and spend time exploring its fairytale-like buildings, stone structures, and magnificent tiles. The views overlooking Barcelona city from the park are some of the best photo opportunities around!
Enjoy lunch and exploring Barcelona at your leisure before preparing for your concert.
Tonight, your ensemble will perform a friendship concert with a choir from Barcelona. The performance will be in church or theater selected by your local hosts for a memorable night of singing and musical exchange!
A group dinner can be arranged around your performance.
DAY 6
|
BARCELONA TO GIRONA | EVENING CONCERT*
Check out of your accommodations in Barcelona and head north along the scenic Costa Brava to Girona. Girona is a beautiful Catalan city with medieval roots and an artistic heritage preserved within ancient city walls.
In Girona, join a local guide for a walking tour through the historic town center. Then, check into your hotel and get ready for your concert.
This evening, perform a concert in a wonderful Girona venue such as the Girona Cathedral* Your voices will rise and resonate to the delight of a gracious public audience.
DAY 7
|
FIGURES & BESALU
Today, enjoy a guided excursion to Figueres, a town whose name translates in Catalan to "fig trees." Visit the Dalí Theatre-Museum, dedicated to the works of Figueres-born artist Salvador Dalí.
After some time to explore Figueres Old Town, drive onto Besalú, a well-preserved medieval village to the west with a incredibly charming storybook feel.
A farewell dinner at a Catalan restaurant rounds out this amazing performance tour of Spain!
DAY 8
|
HEAD HOME or EXTEND YOUR STAY
Return home with wonderful memories. Additional days, destinations, and activities can be added to customize this tour for your group.
FRIENDSHIP CONCERTS IN SPAIN
Friendship concerts are a featured experience on our tours and are at the heart of our mission to foster cultural connections through music. We benefit from a vast international network in the choral world built over our thirty years of helping choirs share their music both in the United States and abroad. Your choir will share a venue and a concert program with a host choir from the region. Your singers will have the opportunity to hear their host choir's repertoire (often showcasing local musical styles) and to share your own repertoire in turn. Fellowship time is planned around the friendship concert, giving both choirs the chance to mingle and enjoy the camaraderie of creating cross-cultural connections through a shared love of music.
BARCELONA
Barcelona is one of Europe's most diverse and historic port cities. Dramatic works of modernist architect Antoni Gaudi can be found throughout the city. Plaza Catalunya is at the top of the pedestrian zone of Las Ramblas and is the heart of the gothic quarter of Barcelona. Montjuic, a hill that rises above Barcelona with sports complexes, museums and cultural centers and looks over the harbor. Climb the Columbus Monument, honoring Christopher Columbus' first voyage to the Americas, and look out over the sea as the famous explorer would have done.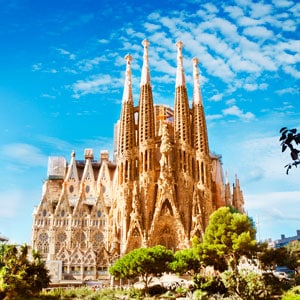 SAGRADA FAMILA, BARCELONA
This basilica is known in Spanish as "el Templo Expiatorio de la Sagrada Familia", which literally translates to the "Expiatory Temple of the Sacred Family". Work on the cathedral began in 1883 and was awarded to the young architect, Antoni Gaudí just 31 years old. Gaudí completely changed the original project and began building his most famous work, which marked his style, made him known worldwide, and allowed him to be known as the master of modern architecture. Construction still continues today and its completion is scheduled for 2026, a date symbolic of the centenary of Antoni Gaudí's death.
GIRONA
Situated 62 miles northeast of Barcelona, Girona was settled and ruled by Iberians, Romans, Visigoths & Moors until it was conquered in 785 A.D. by Charlemagne. In the 9th Century, Girona was made a part of the courtship of Barcelona and by the 11th Century. The 12th Century in Girona was largely defined by the growth of the Jewish community both in numbers and importance. Moshe ben Nahman Gerondi (the rabbi of Girona) was elevated to the status of Great Rabbi of Catalonia. The Jewish Quarter or Call is one of the most beautifully preserved in all of Europe and serves as one of the leading tourist attractions in Catalonia.