Discover incredible sights, warm hospitality, and a deep local appreciation for choral tradition in Georgia and South Carolina. Explore two of America's most enchanting cities, Savannah and Charleston, both brimming with charm and rich with history. Pair concerts in historic venues with sightseeing in some of the most well-preserved neighborhoods in the country. Watch antebellum history come to life as you share your voices and make memories that will last for years to come.
Itinerary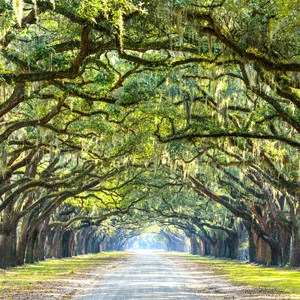 DAY 1
|
SAVANNAH WALKING TOUR
Arrive in Savannah this afternoon. Welcome to Georgia!
Enjoy an introduction to Savannah with a guided walking tour. Admire the unique, defining features of the city's look and feel, large, sweeping oak trees draped with Spanish moss; historic squares dotted with fountains and statues; and manor houses and mansions decorated with ornate ironwork. Noteworthy sights include Forsyth Park, one of the city's most iconic landmarks, and the Cathedral of St. John the Baptist, a breathtaking French Gothic church. There will be opportunities for informal singing as you tour.
Conclude your tour with ice cream at the world-famous Leopold's. A Savannah tradition, this ice cream parlor celebrates its 100th anniversary this year.
Check in to your hotel and take some time to get settled and refresh after today's journey. Rehearsal can be arranged upon request.
Tonight, enjoy a special welcome dinner of Southern fare at a restaurant along the Savannah Riverfront.
DAY 2
|
TYBEE ISLAND & CONCERTS
Breakfast is served at the hotel.
This morning, perform a goodwill concert at a local senior home*. There will be time following your performance to mingle with the appreciative residents.
This afternoon, head to nearby Tybee Island for an afternoon at the beach. Explore Tybee's seaside streets in chaperoned groups; shop for souvenirs and trinkets, and be sure to have lunch at one of the many fun and casual eateries. Go for a swim, soak up the sun, and sink your toes into the white sand along the Tybee Pier and Pavilion.
Return to Savannah tonight and prepare for your evening concert at one of Savannah's historic churches, such as the Cathedral of St. John the Baptist* which offers a concert series or perhaps at the invitation of a local children's choir or arts academy.
Dinner will be arranged to complement your performance schedule.
DAY 3
|
TRAVEL TO CHARLESTON: GHOST TOUR
Following breakfast at the hotel, check out and depart for Charleston (travel time is approximately 2.5 hours).
Arrive in Charleston midday. Welcome to South Carolina!
Upon arrival, spend the afternoon at Magnolia Plantation and Gardens, which earned a spot on Travel and Leisure magazine's "America's Most Beautiful Gardens" list. Enjoy a guided nature train tour of the plantation grounds. Ride a train through the plantation's wetlands, lakes, forests, and marshes, which are habitats for alligators, turtles, egrets, and herons.  As part of your visit, perform a concert for the other plantation visitors on the steps of the main house*. A boxed lunch can be provided to enjoy on the plantation grounds.
Continue on to your hotel and check in.
Tonight, head to Charleston's City Market, one of the oldest public markets in the nation. City Market is Charleston's cultural heart; it is home to over 300 vendors selling a variety of products including local wares, foods, and souvenirs. Enjoy free time for dinner here.
End the day with a ghost tour of Charleston. Listen to the ghost stories and legends that haunt the city as you stroll through its Historic District after dark.
DAY 4
|
CARRIAGE TOUR: FORT SUMTER
Breakfast is served at the hotel.
This morning, embark on a guided carriage tour. Ride through Charleston's cobblestoned streets on horse-drawn carriages as your guides entertain you with colorful facts and stories.
Following time for lunch at leisure, board your narrated cruise to Fort Sumter, a sea fort that played a pivotal role in the American Civil War. Arrive at Fort Sumter and learn about the fort's history from a National Park Service Ranger. Then, explore the fort and its on-site museum.
Return to shore and prepare for tonight's performance.
This evening's concert will be at a beautiful local church such as St. Michael's Church* known for music,  or perhaps at a theater in conjunction with Charleston's college of music.
A group dinner will be arranged to complement your performance schedule
DAY 5
|
WORSHIP SERVICE PARTICIPATION: FAREWELL DINNER
Have breakfast at the hotel.
This morning, head to one of Charleston's many historic churches, where you will sing during this morning's worship service and perform a postlude to follow*. There will be time for fellowship and exchange with the enthusiastic congregation following the service.
Following, enjoy time for lunch and souvenir shopping on King Street, downtown Charleston's main thoroughfare, and adjacent marketplaces.
Culminate your tour with a festive farewell dinner cruise aboard the Spirit of the Carolina. Enjoy a dinner made from seasonal, local ingredients and listen to live music as you cruise through Charleston Harbor. Dancing and singing along is encouraged!
After breakfast, check out and begin your return journey home.