Welcome to Madrid & Barcelona
Visiting Spain opens a window into a country of rich culture, character, and festivity. Undeniably unique in so many ways, Spain has been one of Europe's major cultural centers for thousands of years. Its extraordinary artistic heritage encompasses grand achievements in painting, architecture, and music. Renowned painters such as El Greco, Salvador Dalí, and Pablo Picasso transformed trends in art. It was in Andalusia that the first guitar was invented in the 1790s. Later, Andres Segovia of Spain took this invention to new heights by establishing the classical guitar as a genre. Paco de Lucia eventually became the best-known flamenco guitarist in the world.
Music is at the heart of Spanish culture. Best known for traditions like flamenco and the Spanish guitar, Spanish music varies greatly from region to region. When traveling to Barcelona and Madrid, these distinctive sounds and characteristics can be heard on the streets as well as in concert halls. Reflected in the music of Spain is the culture of people who find this expression integral to their lives and well-being. Join us on this thrilling journey and experience wonders of Spain as you share your music with local audiences.
Additional concert tours in Spain: Barcelona & Catalonia and Seville, Cordoba, & Granada
Itinerary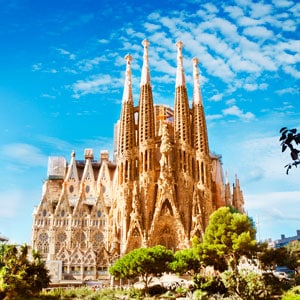 DAY 1
|
FLY TO SPAIN
Depart North America for Barcelona, Spain. Buen Viaje!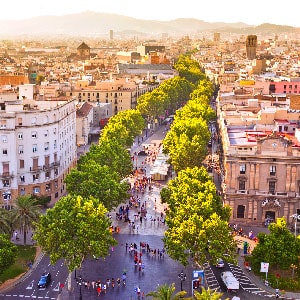 DAY 2
|
WELCOME TO BARCELONA
Welcome to Barcelona, the vibrant capital city of Catalonia! Enjoy an introduction to the city as you drive into this enchanting seaside town with vibrant culture, vivid architecture and loads of artistic flair and music.
Transfer into the city to arrive at your well-equipped hotel and refresh. Later. join your tour manager on an orientation walk and have a lunch or snack. Rehearsal can be arranged this afternoon.
Tonight, a welcome dinner of local specialties is served as your tour manager previews the days ahead.
DAY 3
|
SINGING & SIGHTSEEING IN BARCELONA | EVENING CONCERT*
Enjoy a breakfast at your hotel before embarking on a guided sightseeing tour including a visit to La Sagrada Familia. Illuminated with light and magnificent flourishes, the church is an ongoing testament to creativity and devotion.
Afterward, move to the Gothic Quarter and walk through the historic heart of the city starting at Palau de la Musica Catalana, one of the most breathtaking performance venues in the world. Then, stroll toward Las Ramblas amidst pleasant shops, street performers, and markets. Break for lunch in the atmospheric cafes.
Later, perform your first concert in Spain at a wonderful venue such as La Seu*, Barcelona's iconic cathedral. Experience enormous acoustics and gratitude from the friendly audience.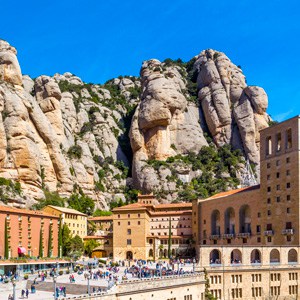 DAY 4
|
MONTSERRAT | CHORAL OFFERING*
This morning, embark on an excursion to the Monastery of Montserrat. Take in fabulous vistas as your coach winds to the top of the sacred points arriving at the spiritual pilgrimage site known as the "home of the Black Madonna".
The oldest Boychoir in Europe also resides at Montserrat and sings daily for midday mass (when the boys are not on tour). If your visit coincides with the Boychoir's residence, their chants are very special to hear.
While in Montserrat your choir will be asked for a choral offering and experience singing at the gold gilded altar!
DAY 5
|
TRAVEL TO MADRID
Today, depart Barcelona and transfer to Madrid. Music Contact International will recommend the best way for your ensemble to travel between the fabulous Spanish cities, which may include a stop in an interesting locale such as Zaragoza in central Aragon, Valencia on the coast, or Cuenca in the mountains.
A comfortable convenient hotel and group dinner with Flamenco show is waiting for you in Spain's capital city!
DAY 6
|
MADRID TOUR | FRIENDSHIP CONCERT
After breakfast, enjoy a guided tour of Madrid including iconic sights such as Santiago Bernabéu Stadium, home of Real Madrid CF; Plaza de Toros de Las Ventas, Madrid's famous bullring; and the gorgeous Palacio Real, the official residence of the Spanish royal family. Your tour concludes in Plaza Mayor, Madrid's historic main square.
Tonight, participate in a friendship concert with an ensemble from Madrid followed by time to mingle and exchange for a most memorable musical evening!
DAY 7
|
EXCURSION TO TOLEDO
Enjoy a guided excursion to Toledo, a beautiful medieval "city of three cultures" where Christian, Muslim and Jewish communities peacefully co-existed for centuries. Sitting atop a gorge surrounded by synagogues, a massive cathedral, military fortifications, churches and monastery, Toledo is resplendent with interesting sites and photo opportunities.
DAY 8
|
MADRID MUSEUMS | CONCERT*
Today we suggest visiting a renowned museum in Madrid's Golden Triangle of Art: Museo del Prado, Museo Nacional Centro de Arte Reina Sofia, or Museo Thyssen Bornemisza.
A concert in a church or a goodwill performance in a senior home, school, or community center can be arranged for your last singing opportunity on this thrilling tour!
This evening, a festive farewell dinner wraps up your performance tour on a high note!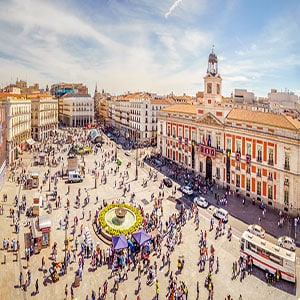 DAY 9
|
HEAD HOME or EXTEND YOUR STAY
Return home with wonderful memories of your concert tour.
Additional days, destinations, and activities can be added to customize this tour for your group.
FRIENDSHIP CONCERTS IN SPAIN
Friendship concerts are a featured experience on our tours and are at the heart of our mission to foster cultural connections through music. We benefit from a vast international network in the choral world built over our thirty years of helping choirs share their music both in the United States and abroad. Your choir will share a venue and a concert program with a host choir from the region. Your singers will have the opportunity to hear their host choir's repertoire (often showcasing local musical styles) and to share your own repertoire in turn. Fellowship time is planned around the friendship concert, giving both choirs the chance to mingle and enjoy the camaraderie of creating cross-cultural connections through a shared love of music.
MADRID
In the center of the Iberian Peninsula sits Madrid, the "city of great monuments," and Spain's glorious capital. Madrid is a lively metropolis, a cosmopolitan city that serves as the headquarters for the Spanish Parliament and home of the Spanish Royal Family. Many visitors come to Madrid to witness firsthand the renowned art palaces and museums, namely the Prado, the Thyssen and the Reina Sofia, but are pleased to find a multitude of other attractions housed here. With an exceptional music scene, fine restaurants, astonishing art galleries and amazing 17th and 18th century Baroque and neoclassical structures such as Plaza Mayor and Palacio Real, there is something in Madrid for every avid seeker.
TOLEDO
When visiting Madrid, an excursion to historic Toledo is a special experience. Sitting upon a large hill draped over a dramatic gorge, Roman baths, mosques, sword factories and art museums mix with Gothic spires and Moorish-inspired gates in this fascinating city. Historically home of the Spanish Catholic Church, Toledo has been where Muslims, Christians and Jews have lived together harmoniously in its labyrinth of streets. Today, walking through Toledo is like taking
a step back in time in a living museum.
BARCELONA
On the shores of the Mediterranean Sea, along the northeastern coast of the Iberian Peninsula lies Barcelona, the second largest city in Spain and the capital of Catalonia. Barcelona is unequivocally a Mediterranean city, not only because of its geographic location, but because of its history, traditions and cultural influences. Barcelona is more than just a single city, but rather a collection of multifaceted and diverse cities that all function together to create its unique appeal and cultural atmosphere. Its fabulous architecture, brilliant Spanish cuisine, flamboyant culture and wonderful weather all combine to make Barcelona a truly magnificent place to visit.