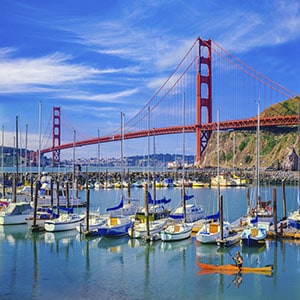 Perform in San Francisco with your choir! San Francisco is the cultural, commercial, and financial center of Northern California, with a population of almost five million people in its greater metropolitan area.Founded in 1776 by colonists from Spain, the Gold Rush later brought rapid growth to the area, making San Francisco the largest city on the West Coast at the time. San Francisco's status as the West Coast's largest city peaked between 1870 and 1900when around 25% of California's population resided in the city proper. After the 1906 earthquake and fire destroyed three-quarters of the city, San Francisco was quickly rebuilt, hosting the Panama-Pacific International Exposition nine years later. In World War II, San Francisco was a major port of embarkation for service members shipping out to the Pacific Theater. After the war, the confluence of returning servicemen, significant immigration, liberalizing attitudes, along with the rise of the "hippie" counterculture and other factors led to the Summer of Love and the gay rights movement cementing San Francisco as a center of liberal activism in the United States.A popular tourist destination, San Francisco is known for its cool summers, fog, steep rolling hills, eclectic mix of architecture, and landmarks, including the Golden Gate Bridge, cable cars, the former Alcatraz Federal Penitentiary, Fisherman's Wharf, and it's Chinatown district. San Francisco is also the headquarters of five major banking institutions and various other companies like Levi Strauss and Co. The city, and the surrounding Bay Area, is a global center of the sciences and arts and is home to a number of educational and cultural institutions, which you will explore and enjoy on this performance tour.
Itinerary
DAY 1
|
FLY TO SAN FRANCISCO
Your tour of San Francisco starts with a morning flight to California.  Refer to your MCI tour handbook for tips on making the journey smooth and comfortable.
Arrive mid-day; your Music Contact International tour manager will be waiting to greet you in the Arrivals Hall.  Together board your private motor coach and enjoy first impressions of the Bay area as you drive through the exciting city!     Located on the western world's edge, San Francisco is a city steeped in history with a unique twist. The city proper occupies just 48 hilly square miles at the tip of a slender peninsula, almost entirely centered along California's coast. The metropolitan area spreads out far beyond these few square miles to include the famous Bay Area, one of the most rapidly growing regions in the United States.
Begin your California adventure with a panoramic city tour led by a local expert of this incredible metropolis. During your tour, see famous San Francisco sights such as the curvy Lombard Street and Union Square and learn about the groovy history of iconic San Francisco neighborhoods, including Haight-Ashbury, Telegraph Hill, and The Castro.   Your tour will conclude in Chinatown, where your students can break for a dim sum lunch in chaperoned groups! Next, you'll transfer to the Golden Gate Bridge Welcome Center and walk together over Golden Gate Bridge and back across. Enjoy sweeping panoramic views of the Pacific, Marin Headlands, San Francisco Bay,  and the city's sparkling lights.Proceed to the hotel to check in and refresh before dinner.  Rehearsal can be arranged upon request.Celebrate the kick-off of the your tour with a welcome dinner at a local restaurant.  Later, settle in for a good night's rest at the hotel.
DAY 2
|
SIGHTSEEING & SINGING IN SAN FRANCISCO | WORSHIP SERVICE*
Wake up to your first day in San Francisco!  Enjoy breakfast in the hotel dining room.You are invited to sing for Sunday morning service at a local church. Enjoy fellowship with the friendly parishioners – a unique chance to get to know local San Franciscans and share in their spiritual practice while contributing your music to their community.  Following a lovely morning, enjoy free time in chaperoned groups to have lunch at leisure and explore the Fisherman's Wharf. See the boisterous enclave of sea lions that have taken over a number of floating platforms between the piers. These magnificent creatures have chosen this area as their home and are now protected by the Marine Mammal Act, which allows them to remain there undisturbed.
In the late afternoon, return to San Francisco in time to catch an evening cruise to Alcatraz. Cruise to Alcatraz Island and tour the historic prison and the natural resources that are now protected on the island. The rocky little islet rising out of the San Francisco Bay was initially home to nothing more than the odd pelican, for which the island is named (Alcatraz is Spanish for "pelican"). In the late 19th century, the island became a military fortress, and in 1934 it was converted into America's most dreaded high-security prison. Surrounded by freezing, impassible water, it was an ideal place for a jail. It safely kept some of America's most wanted criminals, such as Al Capone and Machine Gun Kelly, behind bars.
Return to the mainland and walk to a close-by restaurant and enjoy dinner served at one of the many restaurants in the Fisherman's Wharf area.
DAY 3
|
SIGHTSEEING IN MARIN COUNTY
Today, discover Marin County. Head north and cross the Golden Gate Bridge.Continue to Muir Woods. Muir Woods National Monument, home to the majestic coastal redwoods, which are the tallest living things on earth! Enjoy a walk through the forest in chaperoned groups while looking up at these awe-inspiring trees.Make a stop for lunch in Sausalito, a lovely town with spectacular views. Its residents live in houseboats and homes that look like they are hanging off of the cliffs. Drive through some of the most spectacular views of San Francisco can be seen from Marin County's headlands on the other side of the Golden Gate Bridge; the county features peaceful California wildlands.
The Marin Headlands are part of the Golden Gate National Recreation Area, which is mostly undeveloped land save for the remains of old forts that guard the entrance to the bay. This part of the coastline is rugged and perfect for a walk along the beach. The Point Bonita lighthouse stands at the end of the Headlands. Return to San Francisco for dinner at your leisure in chaperoned group.  Your tour manager will be able to make suggestions.
DAY 4
|
SIGHTSEEING & SINGING IN SAN FRANCISCO | FRIENDSHIP CONCERT* & WORKSHOP*
This will be a morning to remember! Perform a friendship concert in a local high school with their choir. The audience of students and faculty are treated to a morning of music! Take turns performing for and getting to know each other as you share your musical talents. Spend a fascinating afternoon at San Jose State University at a choral workshop.
During this workshop, practice musical examples, work on vocal techniques and explore or work on specific areas of interest for your choir with a renowned instructor. At the end of this exciting day of singing, return to San Francisco, where a group dinner will be served in a local restaurant before  Tonight your ensemble is treated to a night out at the symphony or similar. The show will complement your dinner reservations.
DAY 5
|
SIGHTSEEING & SINGING IN SANTA CRUZ | GOODWILL PERFORMANCE*
Travel south to the quintessential California beach town to Santa Cruz. It is common to see surfers on bikes carrying their board or families at the beach enjoying the hot sunshine and to hear sounds from the seaside roller coasters at the historic boardwalk. The city's heart is the vibrant downtown area, full of public art galleries and sidewalk musicians. Spend the afternoon along the famous Santa Cruz Boardwalk.
Break into chaperoned groups and enjoy lunch along the boardwalk and visit the beautiful mile-long beach. The boardwalk is home to more than 30 rides, games, and other attractions. Give a gift of music to people who may benefit most by performing a concert at a local residential home. Sing for a very appreciative audience.  The generosity of your performance will touch the residents, and your benevolence will be remembered long after your visit. At the end of this remarkable day in Santa Cruz, return to San Francisco.
Enjoy a free evening for dinner on your own in San Francisco tonight—enjoy this opportunity to experience San Francisco's many restaurants.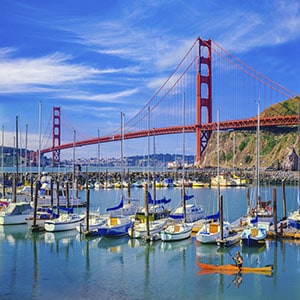 DAY 6
|
SIGHTSEEING & SINGING IN SAN FRANCISCO | CONCERT*
Explore the iconic Golden Gate Park. Golden Gate Park has 1,017 acres of something for everyone. Here you can visit the Conservatory of Flowers, Botanical Gardens, relax in the Japanese Tea Garden, discover museums, see the windmills, and much much more, including Bisons. Choose one of the following to explore today. Flower power is alive and well at San Francisco's Conservatory of Flowers. At the Botanical Gardens, there is always something blooming. Take the redwood trail and explore the California native-plant section with wildflowers that pop with color every spring. See and smell the Garden of Fragrance and breathe in beautiful scents; here, flowers even blossom in winter. Or you may choose to walk to the Japanese Tea Garden and wander the Zen Garden and the bonsai grove, and the Tea House provides tea and fortune cookies (which were first introduced to the US right here in San Francisco). Next, an enchanting musical opportunity to give a concert in Grace Cathedral*.
Perform in San Francisco's beloved church known for its sublime acoustics. It's time to recount the many highlights of your tour!  Applaud the success of your performances, new musical friends, great sightseeing in gorgeous locations, and all of the work and dedication it took for you to be here over a delicious farewell dinner at a special restaurant.  Wrap up the night with memories to last a lifetime.
DAY 7
|
FLY HOME
Enjoy one last visit before traveling home at the Exploratorium – San Francisco's outstanding, hands-on museum! The Exploratorium has six hundred exhibits that encourage visitors to touch, tinker, and figure out how the world works, all while having fun. Your performance tour of San Francisco ends with a flight from San Francisco home.  Heartfelt goodbyes are exchanged at the airport, and your group is sent off with a fond "Thank you for connecting our world through your music. Until we meet again……!"
*All performance opportunities and venues proposed in this itinerary are pending final confirmation and availability at time of booking.  Your group's final program will be determined by confirmed times and locations for concerts, workshops, entrances and other activities.  Although your ensemble's exact itinerary will vary to accommodate performance schedules, the same type of singing experiences, activities and caliber of venue will be included in your final concert tour program.