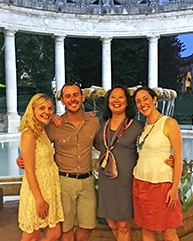 The integrity and dedication of our staff members are the cornerstones of our top-quality concert tours and festivals.
The staff at Music Contact International care deeply about every group's journey and are expertly attuned to the needs of traveling performers. Our team is composed of seasoned and knowledgeable travelers, who share a passion for immersing themselves in the music, art, food, and culture of new destinations. Our tour coordinators provide you with an experienced consultation about the regions you wish to visit. We'll work with you as a team, listen to your wishes, and provide our guidance to help turn your dream performance tour into a reality. Like you, we envision your performance tour as an experience that creates wonderful memories for years to come. Whether you would like to sing and dance with a Ghanaian choir in the heart of West Africa, or perform at St. Peter's Basilica in Vatican City, Music Contact International will work for you and with you to plan every detail of your trip and ensure its success.
For more information about Music Contact International click
here
.